Originally published July 2016
Preliminary Review: Takeda NAS Sasanoha 210mm
This is my first review of a Takeda (and my first review of this specific knife) after just a couple months of use. More use would (still) result in a different review.
Background (the sale/purchase):
I bought this knife used. The seller was very helpful with every aspect of the process and was deeply concerned that I was a satisfied customer. The blade was described among many postings (from the original sale through our continued correspondence) as barely used, or used on only a handful of cuts; as unsharpened but touched up, and other slightly vague descriptions that implied that the knife was obviously tried out, but not "used" in the normal sense of the word. This is all very important because I have things to say about the original condition of the knife, and I can only assume this original condition refers to the "new" condition of the knife, based on the seller's adamant assertions that the knife was unquestionably equivalent to its condition upon purchase, and that is was definitely not sold due to any defects.
Photos of original condition:

Note slight bend in the knife all along the spine, resulting in a subtle "smile" effect on the board even while only the very tip isn't in virtual contact...the effect is more pronounced in the hand.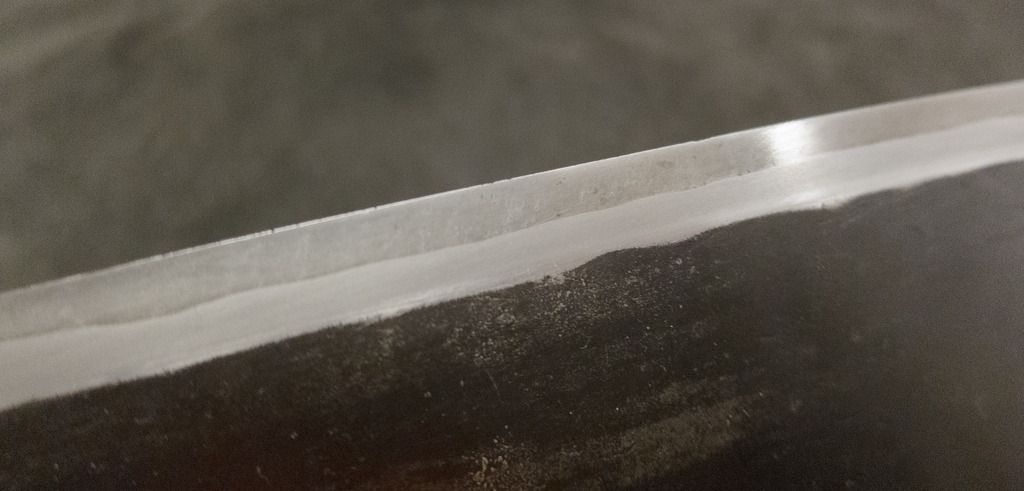 An admittedly poor shot, but like above, you can see the excessive number of microchips. I used this shot because, despite being out of focus, the light reflections make the abundance of very small "missing tooth" style chips obvious in the middle portion along the length of the edge.
The knife is clearly bent, although only gently. I would describe this bend as exactly what I would expect in a hand-made knife: there is nothing unusual about it, and when laid flat on the board, it is only barely perceptible—it is well within tolerance for a hand-made knife. Nonetheless, it is important to highlight this fact, given that this is a thin (but not particularly flexible) knife. This was not advertised, and the only shot of the spine that could have revealed this was out of focus. The knife also arrived with microchipping, and performed unevenly. I took pictures of both of these characteristics to share with the original seller, mostly to convey my different interpretation of the original description of the knife. I would not expect a Takeda to arrive, for example, with microchips, but apparently this is par for the course. All of the following photos below were taken of the knife upon arrival, before I used it, touched it up, or attempted to fix the slight bend in the blade.
Physical Attributes:
I don't have means to accurate measure thickness at spine, etc., but the knife is very thin. The KU finish is imperfect and the texture of the surface of the knife has lots of variations, all of which are quite attractive. Despite the wear marks on the KU finish, the finish itself feels very durable—my sense is that it will take a very long time for it to wear off in normal use, and that the original wear points are not necessarily from how the blade was handled after baking, but rather from an imperfect application of clay prior to baking. The finish is also very smooth (including the blemishes), which makes wiping down the blade very easy—much easier than some other KU (nashiji) finishes that I've dealt with.
The knife has the typical Takeda primary grind; however, I can't say that I've noticed any "S" grind geometry as some have reported. I have noticed that the faces of the blade are generally imperfect, which provides a lot of variation in the geometry on a knife as thin as this. I do feel these variations act in a way that is similar to an "S" grind, even if they are much less refined in execution and consistency. While I did not take a choil shot upon arrival, the primary grind was approximately 6mm, with it being slightly shorter at the heel and slightly taller towards the tip.
There has been a lot of ink spilled about the appropriate size/height of the primary grind, as well as discussion that Takeda's grinds have somehow suffered over time (as compared to "original" Takedas that supposedly had taller grinds). When I started reading about Japanese knives about six years ago, I never had any impression that Takeda's grinds were any different than the ones I see today, so I tend to disagree with those that try to say there are major differences in the grinds of older Takedas and those of newer ones. That said, I am under the impression that some designs, such as my sasanoha, may have slightly shorter zero grinds than the taller, perhaps slightly thicker carbon gyutos and nakiris of the past…over time I've come to the conclusion that this is likely on purpose given the other design attributes of the knives (such as the taller heights of these other blade styles), and not a matter of changes in quality control. I discuss this more below.
The handle of the knife is terrific, and the balance and feel of the knife is great. The knife has a good amount of feedback for its hardness—it is extremely hard, but the feedback is muted enough that is it still plenty comfortable. The knife speaks most clearly when it is used a bit aggressively, usually with something resembling a chopping or aggressive push- or pull-cut drop motion. It does have flex, but this has only been an issue with lapses in technique—with a good technique, the knife behaves extremely predictably, with little to no flex or steering or torquing beyond the sense of a very nice, subtle forgiveness in the steel that is supposed to be there to counteract the hardness of the core. Unlike other thin knives I've used, the flex on the Takeda is isolated to the front third of the blade—there isn't a sense of flex near the handle or heel or neck. While I'm disturbed by those latter forms of flex (as in knives like the Takamura M), I find the kind of flex present in the Takeda to be a welcome trait that gives the knife some life. I've never used one, but I suspect a Masamoto KS would feel a lot like this knife in terms of feedback and flex (while also feeling like an entirely different species, of course!).
Performance attributes:
This knife cuts very well through virtually all shallow ingredients, and even through some taller ones. The heat treat is exceptional—easily one of the best I've experienced on any knife. The only knife that comes to mind in comparison (in terms of heat treat) is a black steel Nubatama. While the Takeda does microchip rather easily (standard practice for a knife of this hardness and bevel, but more than most users would expect relative to more forgiving steels at lower hardness), the chips are very, very small and of the "missing tooth" type, so they are not an issue under normal use and actually just make the edge feel more gritty and toothy, adding to performance. They look less like chips than like natural irregularities in the edge. For example, the chips I've experienced while "freely abusing" the knife are mostly less prominent than those in the "factory" edge above.
The grind is also special. It feels exactly how it looks. I find that the grind is a performance asset only when it comes to the separation and release of more shallow ingredients; otherwise, I find the grind to not be an asset in terms of performance, but I do find that it feels idiosyncratic, special, and "fun" compared to other grinds. I would add that the grind is sometimes a hinderance. Put another way, I really don't feel that the Takeda performs "better" than any other knife in my collection, with a very specific exception: the steel and heat treat are TERRIFIC for slippery ingredients (to be clear: I attribute this to the steel, NOT the grind). The Takeda grips like a alligator: when performing a julienne along the length of round, slimy green onions, it grabs, holds, and cuts; when slicing grape tomatoes, it has its claws in the skin immediately. With anything small, slick, or likely to slip out of one's hands, the Takeda grips, holds, and cuts. It is an uncanny combination of edge sharpness, refinement, and toothy tenacity. Even with these ingredients, I don't find the shoulder of the grind to be particular helpful, but I do suspect the "zero" grind at the edge combines with that special heat treat to outperform just about anything.
With other ingredients, the Takeda performs best when used quite aggressively. I'm not an aggressive cutter, though. It can be lots of fun to make lots of noise chopping carrots and bell peppers, for example, but using a softer or more controlled chop drops performance considerably. I think this is a knife that would really shine in profession kitchens, where the added aggression is both part of the work place and also a way to adjust muscle use to avoid fatigue…and also because edge retention is clearly a non-issue for the Takeda. For me, as a home cook, it is really only useful to show off using loud, aggressive, fast motions, whereas my konos cut better, but much more quietly and with less separation, which means that most people don't notice so much when I'm showing off in the kitchen during drinks and snacks.
You may have noticed how little I discuss the profile, geometry, weight, balance, etc., above. That's because my 210mm sasanoha essentially feel right. I did have to ease the choil and the spine for it to meld with my hand, but otherwise, this knife is designed and sculpted by someone who actually uses knives. It works, and if it doesn't work, you adapt until it does, because there is always a way.
Important additional notes:
I bought this knife to add character to my collection, both in terms of the knife itself, and in terms of my connection to it. So, I didn't hesitate to immediately mess with it to "personalize" that connection further. I tried to fix the bend in the blade, I tried to heighten the shoulders just a millimeter or two while maintaining the "zero" grind and the abrupt transition from shoulder to blade, I tried using different finishes on the bevels to bring out steel contrast and to adjust performance, I tried stopping my sharpening at different grits, I eased the spine and choil, I used the knife very aggressively, even when rocking/mincing large piles of herbs to see if it would chip, I used it on crusty bread, etc. etc.
I discovered that the NAS is extremely hard. I found it very difficult to modify the knife on the stones (I do not have a strong stone set for such modifications, with only a 120 grit diamond plate and a 320 SP and then up from there). The stainless coating is unwieldy, but also very durable and easy to use and built for the long haul. The core steel is also hard, but is very, very easy to sharpen. One should have to remove almost no metal to sharpen one of these knives.
I also noticed that, perhaps due to the grit polish, performance was VERY affected by how the bevels were finished. It reminded me of my Kono ginsan, in that the factory finish on that knife was very, very sticky—it would glide through food, but the food would often stick to the sides. This faded quite a bit as the finish polished out a bit…the same thing happened on my Kono B2, but to a lesser degree. I had similar issues, I think, with a loaned Yuki that was modified and polished (on the bevels) at a higher grit. On the Takeda, the opposite happened: the performance really sucked if I took the bevels to the wrong grit; performance was easily restored by shifting down to a power grit on the stones, but either way, it didn't affect separation or release (although it definitely affected wedging). Oddly, I could easily strop the entire zero grind (including the bevels) on treated balsa and leather without problems, so the issue had to do with a certain type of polish produced by the stones at a certain level of grit. I plan on experimenting more with this in the future, but the knife won't need to be sharpened for at least six months given its performance so far, so I'm not likely to have much to report any time soon. Given some recent comments on another thread, I wonder if a lot of people actually mess up their knives by touching them up on 5k or similar synthetic stones and then blame it on the grind, when really you just have to polish the bevel to a different grit and all the performance comes screaming back.
In sum, this is a great knife, a fun knife, and a knife that feels like it is worth the price. I wouldn't recommend it as a first or last knife, but I will say that I suspect it will stay in my collection until the end of my days, even though I bought what I strongly feel is the "least iconic" and "least representative" of Takeda's best and most inspired work (if I wanted that, I would have gotten a carbon Nakiri or a 240 tall gyuto…but then I would have never used the damn thing). My Takeda isn't perfect, and it isn't an all-around knife, but it is a charmer and it absolutely deserves its coy, little emoji heart. I <3 Takedas.